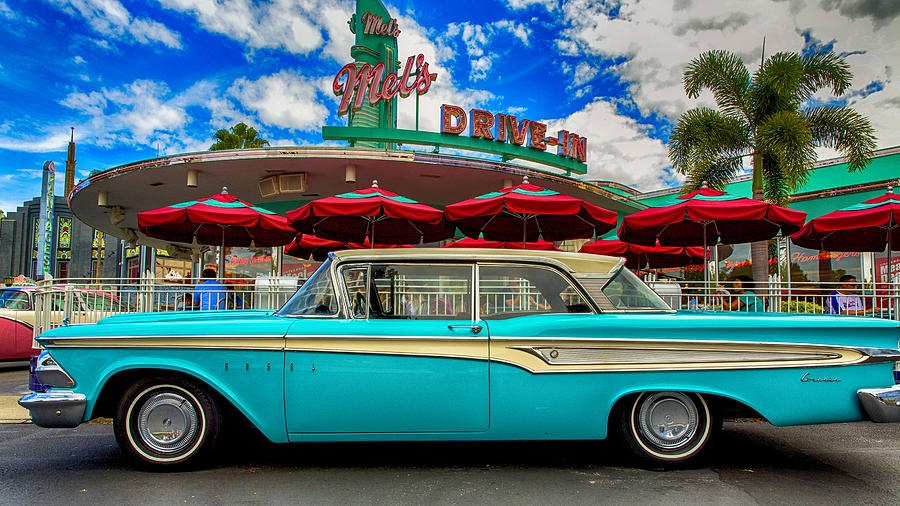 Artist
Bill and Linda Tiepelman
Medium
Photograph - Digital Photograph
Description
The Edsel was an automobile marque that was planned, developed, and manufactured by the Ford Motor Company during the 1958, 1959, and 1960 model years. With the Edsel, Ford had expected to make significant inroads into the market share of both General Motors and Chrysler and close the gap between itself and GM in the domestic American automotive market. But contrary to Ford's internal plans and projections, the Edsel never gained popularity with contemporary American car buyers and sold poorly. The Ford Motor Company lost millions of dollars on the Edsel's development, manufacturing, and marketing.

This Shot Was Taken At Mel's Drive-In in Universal Studios Florida

Mels Drive-In (not to be confused with Mel's Diner) is an American restaurant chain founded in 1947 by Mel Weiss and Harold Dobbs in San Francisco, California.

In October 1963, the Mels Drive in chain was picketed and subjected to a sit-in by the Ad Hoc Committee to End Discrimination over the fact that while the restaurant would serve food to African Americans and hired them as cooks, they were not allowed to work 'up front' where they could be seen by white customers. More than 100 protesters were arrested. The picketing ended when Harold Dobbs, a San Francisco City Supervisor who had run for Mayor and lost, settled with the protesters and began to allow black workers 'up front.'

Universal Studios built a replica of 'Mel's Drive-In' on its lot, pursuant to the restaurant being used in American Graffiti - this amusement attraction also served as a gift shop for years. There are also a number of 'Mels' located in Northern California that shares the same general American Graffiti nostalgia theme and the similarly styled Mels logo.
Uploaded
February 28th, 2014
Statistics
Viewed 4,151 Times - Last Visitor from Mineral Wells, WV on 12/10/2023 at 8:33 PM